Custom end-grain cutting boards are new to the Dogwood line-up as of December 2020.
All Dogwood cutting boards are made from end-grain hardwood in order to promote longevity of both the board and the knives used.
In order to join the Dogwood Handcrafts custom cutting board waitlist, please email me at stephen@dogwoodhandcrafts.com with the following information:
Desired size

Length x Width x Thickness
Standard dimensions are 18 x 12 x 2″

Sides

Single-sided with feet
Double-sided with no feet

Juice groove on one side (Yes/No)
Edge contouring

Square edges
Rounded edges
Chamfered edges

Corner shape

Square corners
Round corners

Pattern/Design – How should the board look? Pictures of boards you like are very helpful.

Single-species of wood
Checkered
Brick and mortar
Framed
Random pattern
Custom inlay
Etc.
Payment
When I am ready to begin your board, I will email you to collect payment for your order. Work will not begin until payment is received. If you do not respond to my payment inquiry, I will move on to the next position until I hear back from you. PayPal and Venmo accepted.
Note: Cutting boards are heavy and costly to ship depending on your location. Standard shipping method is UPS Ground.
Pricing
| | | |
| --- | --- | --- |
| | 18 x 12 x 2″ | 20 x 15 x 2″ |
| Base Price | $150+ | $200+ |
| Add Feet | $5 | $5 |
| Add Juice Groove | $15 | $15 |
| Custom Inlay | $100 | $100 |
Price for custom dimensions will vary, all prices are without shipping included.
Please note: complex board designs will cost more due to the extra labor necessary.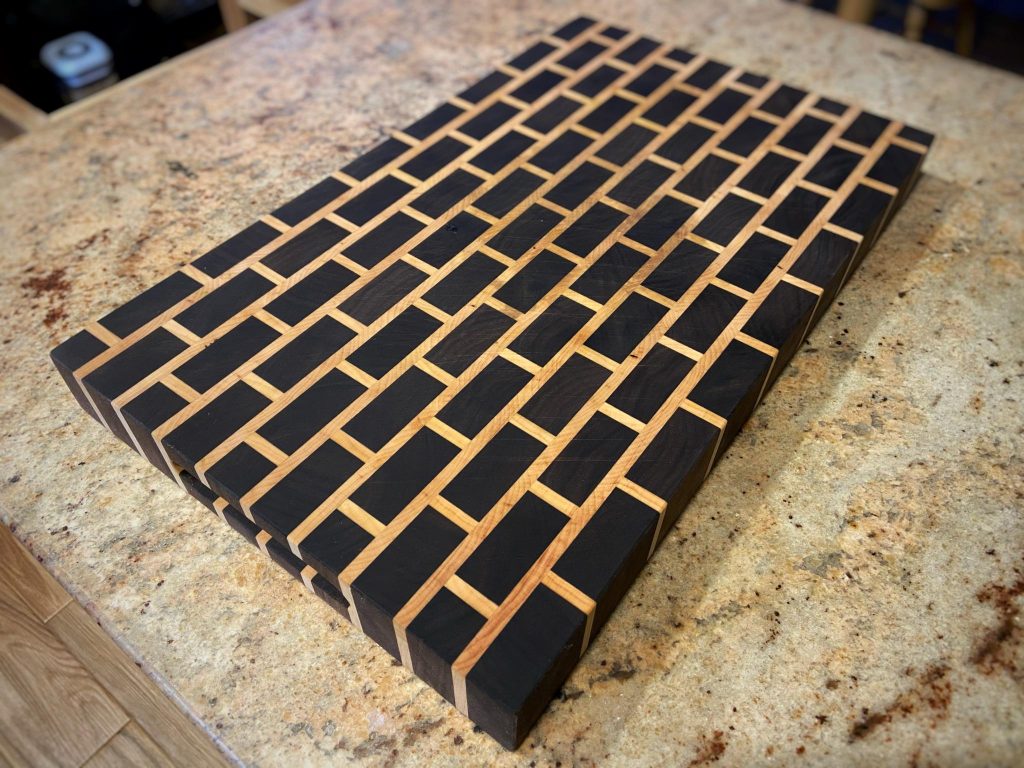 Please feel free to reach out to me with any questions or requests.