I offer an assortment of knots as an option for every shaving brush. Knot preference is largely subjective and every knot I stock will perform excellently with any soap or cream. The ready-made knots are purchased from www.maggardrazors.com.
Synthetic Knots
Synthetic knots are made without any animal products. They do not require any breaking-in and have incredible longevity.
Basic Synthetic
These are the most common option on the market. They are similar to the famous Plisson, but with much more backbone.
Tuxedo
The tuxedo knot is the most popular synthetic knot on the market currently. It offers an excellent balance of softness and backbone.
Cashmere
These knots are the softest synthetics with a color resembling a boar knot. They have the least backbone of all the synthetics.
Timberwolf
These knots are very similar in feel to the cashmere with very soft tips, but slightly more backbone.
Natural Knots
Natural knots are made from animal hair. They may require a short break-in period to reach their full potential.
2-Band Badger
These are the most popular natural knots. They have soft tips and a good amount of scrubbing action during lathering.
Badger/Boar Mixed
Composed of 70% badger hair and 30% boar hair, these knots offer more backbone than a badger-only knot.
Silvertip Badger
These knots have incredibly soft tips and much less backbone and scrub than a typical badger knot. They have a luxurious feel reminiscent of much more expensive knots on the market.
Super High Density Badger
These are the densest commercially available brush knots with substantially more hair packed in than the other Maggard badger offerings. Although new on the market, they are universally loved as an affordable alternative to high-end badger knots.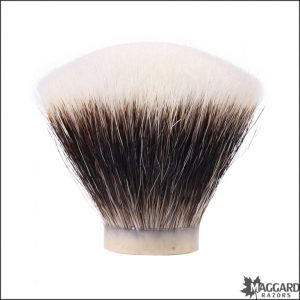 Declaration Grooming Badger
You also have the option of sending your handle to Declaration Grooming for a custom hand-tied badger knot. These are the highest quality knots in the world with a cult following in the shaving community, plus Dogwood Handcrafts customers get 10% off! Purchase the knotting service on www.declarationgrooming.com and I will send him your handle after purchase. Check his website for pricing and lead times.